Production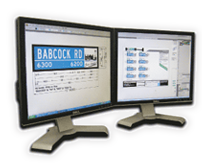 We start with your exact specifications, which include font, size, spacing, colors, and any custom logos you require.
Our production team then creates a customized proof of your sign for your revisions/approval before it's produced.
Bright, Durable 3M Colors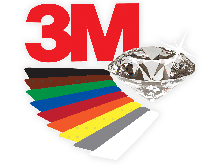 Temple Edge-Lit Internally-Illuminated LED Street Signs are built with incredibly durable, bright 3M Electrocut™ film to ensure years of vibrant performance.
And 3M Diamond Grade sheeting is available on every sign manufactured by Temple Edge-Lit.
Uniquely Customized Signs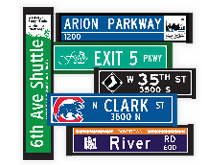 Temple Edge-Lit Internally-Illuminated LED Street Signs can be customized to fit your specifications, incorporating logos, custom colors, and non-standard fonts.
No idea where to start? The Temple Edge-Lit Idea Lab can also propose some ideas for your signs, upon request, with just a little information from you. Contact our Idea Lab for help or ideas.
Quality Materials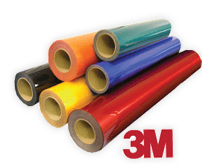 We strive to make impressive signs to remember!
Temple Edge-Lit uses only the best film for its RAZOR and FLIP™ Internally-Illuminated LED Street Signs. 3M Electrocut is the industry standard for both quality and performance, and has no equal.